Local First - Keeping your local economy strong
When women fall in love with Willow Tree, they become advocates for us, and without any prompting from us, help sell the concept of thinking Local First.
Preserving the uniqueness of America is the idea, and it's not easy as the big keep getting bigger and bigger, and the variety keeps shrinking. Locally owned stores are crucial to the flavor of any region or city, but their survival is not assured. Local First asks that people consider their locally owned options before directing their dollars to national chains or the internet. A much higher percentage of the money stays within the community, recycling over and over again. Certainly better for the LOCAL community than if those same dollars are spent online, or taken to another city for a weekend spree, or even just spent at a place like Macy's.
Stores like Willow Tree will never make you feel that you need to spend more for an identical item, or thatyou should buy a more expensive item just to support us. We ask only that you try to buy locally before you automatically go to the shopping meccas, including online. The difference to us as a business s obvious, and we are grateful beyond words for the support. But it means so much more. Your own community is so much better off if stores like ours are here next year, employing people, paying taxes, buying goods and services from other local businesses, and keeping the shopping district vital, buying utility services, and keeping vacant store fronts from taking over your local shopping areas. What people often fail to realize is that every single buying decision makes a difference. Every single one.
There are websites that support this thinking, and indeed, contribute to the ideas spoken here. Click on the links if you get a chance, and learn more. Think about your own habits, and consider if there's anything you could do to ramp up your efforts or the efforts of others! Spread the word - - Think Local, Shop Local, Buy Local. Make a difference in your community!
And wherever you go, seek out the locally owned business - - - they need the support far more than the national chains with no links to their community!
Check out these sites:
NEWRULES.ORG
Stacy Mitchell wrote a great book called Big Box Swindle that explained a lot about the advantage large companies have over small ones, and how government supports that edge, making it harder and harder for independent stores to flourish, or even survive. Strongly recommended reading, and the website is a wealth of information as well. Join their electronic newsletter, too, and become more aware of what's going on in American retailing.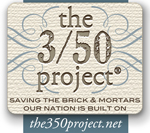 BuyMichiganNow.com
Take the pledge! Ever think about how many things are made right here in Michigan? It takes a bit of learning, but once you know, it's easier to Buy Michigan. The pledge makes it easier
The350project.net
Advises to pick three retailers you don't want to even think about being gone, out of business, and spending $50 with them as soon as possible. We've got stickers in our windows, watch for others.